Rand Paul filibuster: What about civilian drone casualties in Pakistan?
Sen. Rand Paul filibustered over the hypothetical drone targeting of American civilians on US soil. But critics say hundreds of other civilians already are being killed in US drone attacks in Pakistan and elsewhere.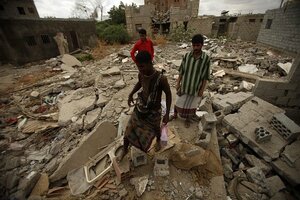 Khaled Abdullah/REUTERS
Senator Rand Paul dominated the news this week with his 13-hour filibuster about the potential for armed drone aircraft dropping their deadly payloads on Americans here in the United States.
It was a hypothetical scenario designed to pressure the Obama administration into acknowledging that noncombatant US civilians – however much they might be suspected terrorists – would not be targeted while walking down the street or sitting in a café, that the president does not have the constitutional authority to do that.
Not so hypothetical is the issue of hundreds of other noncombatant civilians – women, children, and old men, mainly in Pakistan – ending up as collateral damage in US drone attacks aimed at those believed to be terrorists connected with Al Qaeda.
US officials acknowledge that there have been some incidents in which civilians were killed as the result of drone strikes, but the impression left is that there are few such civilian deaths.
During the confirmation hearing for CIA director John Brennan, Senate Intelligence Committee chairman Dianne Feinstein said the number of civilian casualties caused by US drone strikes each year has "typically been in the single digits."
"We only authorize a strike if we have a high degree of confidence that innocent civilians will not be injured or killed, except in the rarest of circumstances," Mr. Brennan said in a speech at the Wilson Center last April (at which time he was the Obama administration's top counterterrorism official). "It is hard to imagine a tool that can better minimize the risk to civilians than remotely piloted aircraft."
---