Israel apologizes to Turkey: how Syrian crisis helped Obama make his case
Motivated by increasing concerns over the crisis in Syria, US officials say, Obama implored Israel's Netanyahu to reach out to Turkey. Erdogan's office said the apology was accepted.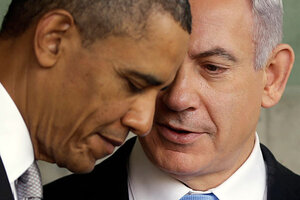 Pablo Martinez Monsivais/AP
Behind President Obama's surprise brokering of a mending of ties between Israel and Turkey Friday stands a deepening regional crisis – namely Syria – that suddenly trumped the dispute that had soured relations between two key US partners.
US officials say that almost since Mr. Obama arrived in Israel Wednesday the president had been working on Israeli Prime Minister Benjamin Netanyahu to reach out to Turkish Prime Minister Recep Tayyip Erdogan in an effort to repair broken Israeli-Turkish relations.
Just before Obama departed from Tel Aviv's airport for Jordan, the president and Mr. Netanyahu stepped into a trailer, and the Israeli leader placed a phone call to Mr. Erdogan. Obama also took part in the call.
The US officials also suggest that the growing and increasingly worrisome impact the Syrian conflict is having in the region – some aspects are of growing concern in particular to Israel – was a key motivation behind Obama's go-between efforts.
In a statement issued after the phone call, Obama said the United States attaches "great importance to the restoration of positive relations between them in order to advance regional peace and security."
In comments to reporters aboard Air Force One, a senior administration official emphasized the importance the president places on regional cooperation – and in particular on good relations between Israel and Turkey "in dealing with regional security challenges that both of them have a significant stake in."
Netanyahu began his call to Erdogan by telling the Turkish leader that he had been "discussing with President Obama the importance of regional relations, the importance of Turkey-Israel cooperation," according to the US official.
---