Russia backs Syria, firmly, as UN prepares chemical weapons probe
The diplomatic impasse over Syria deepens, as Russia blasts moves to recognize the Syrian opposition and demands to be represented in the UN investigation into alleged use of chemical weapons.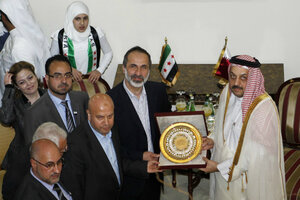 Mohammed Dabbous/Reuters
Russia is laying to rest any thoughts that its support for Syrian President Bashar al-Assad might be wavering: It is championing the Assad regime's position in a United Nations probe of alleged chemical weapons use in the Syria conflict, and blasting as "illegal" the official recognition of the Syrian opposition by some countries.
At the same time, Britain and France are advocating providing Western military assistance to the rebels, and urging the United States to drop its opposition to joining such a plan.
Secretary of State John Kerry, in Paris Wednesday, got a bit of direct pressure from the French, who want the US to at least provide nonlethal logistical assistance if the Britain and France provide the heavy weapons the rebels want.
The result of this standoff between camps of world powers is that the Syrian conflict, which the UN says has already claimed more than 70,000 lives and driven hundreds of thousands of Syrians into neighboring countries, seems likely to drag on for some time.
"It's hard to see the conditions or sequence of events that lead to a quick end to this war, which is one reason there is so much emphasis on maintaining the delivery of humanitarian assistance," says one UN official.
At the UN, Secretary General Ban Ki-moon is assembling the team and finalizing other details of the investigation he ordered last week into allegations from both camps in the Syria war that chemical weapons were used in Aleppo in northern Syria.
But Russia is complicating Secretary General Ban's already politically sensitive task, demanding that the team of investigators include representatives from the five permanent members of the Security Council – in other words that Russia and China, which have repeatedly blocked UN action against Mr. Assad, be guaranteed a hand in the investigation.
---