North Korea: US signals strength, but speaks softly
In response to the threats from North Korea's untested young leader, the Obama administration has sought to reassure the US public and allies alike, but without saying very much.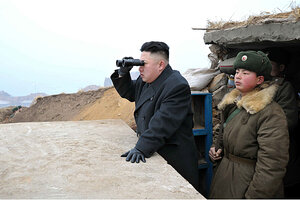 KCNA via KNS/AP/File
As North Korean leader Kim Jong-un has issued increasingly belligerent statements toward South Korea and the United States in recent weeks, many North Asia analysts have concluded that the young Mr. Kim is acting to establish his tough-guy credentials with key audiences: the North Korean public, but also the military and other North Korean elites.
But in response, the Obama administration – while actually saying little – has also been acting to reassure the American public and key allies like South Korea and Japan, even as it tries to figure out what Kim Jong-un is really up to and the best way to deal with him, some regional experts say.
"The early superficial take-away on [Kim] is that he's not afraid to be out front, not afraid to take risks.... He speaks more directly to the public than his father did, and after he's established his military credentials he can then turn his focus to the economy," says Jim Walsh, an expert in international security at the Massachusetts Institute of Technology's Security Studies Program.
"But the US is also sending its own messages" by responding to Kim's rhetoric – which has included a vow to attack the US – with the inclusion of nuclear-capable B-52s in US-South Korea military exercises and a reinforcing of missile defense batteries in Alaska, he says.
---