UN approves Arms Trade Treaty. Will US Senate ratify it?
The Arms Trade Treaty, the first international regulations of the multibillion-dollar trade, passed by a 154-to-3 vote. Some members of Congress have opposed it.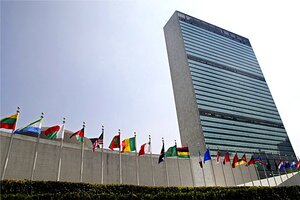 Adam Rountree / AP / File
With only a trio of isolated states opposing, the United Nations approved Tuesday an Arms Trade Treaty that backers say will help regulate international arms flows while reducing firearms violence and the world's worst human rights violations.
It is the first international regulations of the multibillion-dollar arms trade. In a statement hailing passage of the treaty, Secretary of State John Kerry said it "will help reduce the risk that international transfers of conventional arms will be used to carry out the world's worst crimes, including terrorism, genocide, crimes against humanity, and war crimes."
Mindful of opposition to the treaty in some quarters of Congress and among pro-gun organizations including the National Rifle Association, Secretary Kerry noted that the treaty protects "the sovereign right of states to conduct legitimate arms trade" and each state's right to regulate arms as it sees fit within its own borders.
"Nothing in this treaty could ever infringe on the rights of American citizens under our domestic law or the Constitution, including the Second Amendment," Kerry said.
---