Singapore urges Obama to take stronger stand in Asia
In Washington, Singapore's Prime Minister Lee Hsien Loong says that the US must strengthen its economic ties in Asia to maintain a leadership role and balance the rise of China.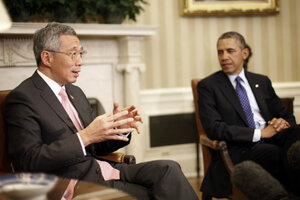 Pablo Martinez Monsivais/AP
Barack Obama may fancy himself the "Asia pivot" president, but some Asian leaders are warning that the US is still not doing enough to meet the challenge of a rapidly rising China.
The prime minister of Singapore – one of America's most reliable partners in Southeast Asia and its 11th largest trading partner – is in Washington this week delivering a cautionary message: We want the United States and its leadership and stabilizing power in the region, but you are falling behind China, especially in terms of economic relations and trade.
"Over the last decade, China has become the top trading partner of almost all Southeast Asian nations, including US allies such as the Philippines and Thailand," Singapore's Prime Minister Lee Hsien Loong said at a Washington dinner Tuesday night sponsored by the US Chamber of Commerce and the US-ASEAN Business Council.
---