Syria civil war: This week could be decisive for US involvement
Secretary of State John Kerry travels to Moscow to discuss international pressure on Syria, following Israel's targeted airstrikes on Damascus over the weekend.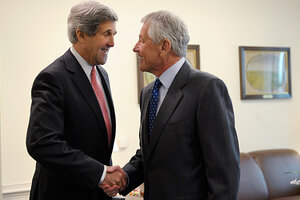 Susan Walsh/AP
With President Obama dispatching Secretary of State John Kerry to Moscow even as Israel launches targeted airstrikes on Damascus, this could turn out to be a decisive week for US involvement in the Syrian conflict.
Mr. Obama has long sought to keep the United States out of what would likely be an attention-consuming, domestically unpopular, and ultimately inconclusive US intervention in Syria's civil war. But with the war reaching new levels of violence and now seriously threatening to spill over into a regional conflict, the president may have little choice but to reverse course and intervene in some way.
What, if anything, Secretary Kerry is able to work out with the Russians in terms of international pressure on Syria, and where Israel's weekend strikes lead in the coming days, are likely to alter the course of US action. In any event, both components are part of a scenario of suddenly expanding pressure on Obama to move decisively on Syria.
"This is a risk-averse president – rightly so in this case, I would add – being pulled closer and closer to some kind of intervention," says Aaron David Miller, a Middle East expert at the Woodrow Wilson International Center for Scholars in Washington.
---