US unveils Arctic strategy, but is it keeping pace with other countries?
The National Strategy for the Arctic Region focuses on security, environment, and international cooperation. But with retreating sea ice creating opportunity as well as potential conflict, the US is seen as lagging.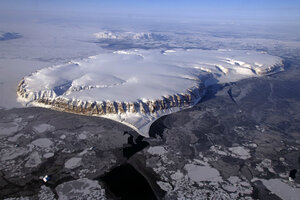 Michael Studinger/NASA/Handout/Reuters
The Obama administration on Friday unveiled its National Strategy for the Arctic Region – three broad priorities it plans to pursue, as opportunities open to drill for oil and gas, harvest minerals, and increase other forms of economic activity at the top of the world.
The priorities in the 13-page document include beefing up defense and other national security activities in the region, as well as the infrastructure to support them; working to safeguard the region's environment; and working with other Arctic nations one on one and through multicountry organizations, such as the Arctic Council, to manage activities in the region in ways that reduce the potential for conflict. In addition, the strategy calls for a push for ratification of the UN's Law of the Sea Treaty, which failed to clear the Senate last year.
Participation in the treaty regime would give the US standing in disputes that might arise with nations that have ratified the treaty over conflicting claims of sea-floor sovereignty.
Given the rising interest in exploiting the region's resources, particularly on the sea floor, the new strategy hits specific themes "we need to focus on to make sure that can happen in a safe and responsible manner," a senior administration official said at a briefing Friday morning.
The announcement comes at a time when carbon dioxide concentrations in the atmosphere are flirting with a level that last existed on Earth 3 million years ago, when global average temperatures were from 2 to 3 degrees Celsius (3.6 to 5.4 degrees Fahrenheit) higher than today's temperatures.
At that time, the Arctic was far warmer. Forests of Douglas fir and hemlock reaching all the way to the shores of an Arctic Ocean. The ocean likely was ice free in the summer, according to a study of the region's ancient environment published in Friday's issue of the journal Science.
---