Myanmar's White House bow: well done, but not mission accomplished
Thein Sein on Monday became the first Burmese president to visit the US since 1968. His meeting with President Obama is part of an opening of Myanmar to US business, but there's much more to do, a human-rights activist says.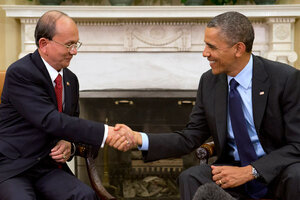 Jacquelyn Martin/AP
President Obama's meeting with Myanmar President Thein Sein on Monday – the first visit to the US by a Burmese ruler since 1968 – caps a flurry of recent activity between the two nations since Myanmar began rolling back elements of its authoritarian regime in its "Myanmar Spring."
A recent visit to Myanmar (formerly known as Burma) by America's top trade official included discussions about the possibility of duty-free status for some of Myanmar's products. That followed an April announcement by Ford Motor Company that it would be jumping into the Burmese auto market, and a March visit to Myanmar by Google chairman Eric Schmidt.
But human rights officials caution that the visit should not be prematurely hailed as a "mission accomplished moment" for the still-troubled country.
"We welcome high-level engagement with the government of Myanmar, but there are some enormous challenges that lie ahead," says Frank Januzzi, head of the Washington office of Amnesty International. "There's a temptation for this to be viewed as a celebratory moment, but this is not a mission accomplished moment for Myanmar policy."
---