Syria war death toll hits 93,000, UN says. A spur to US to aid rebels?
The new UN figure for lives lost in the Syria war is 30,000 higher than in November's report. A possible battle for the city of Aleppo could drive it higher still. Obama's security team met Wednesday about how to help Syrian rebels, but no decision was apparent.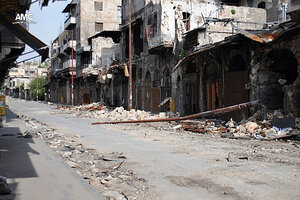 Aleppo Media Center/AP
The United Nations revised its death toll in the Syrian civil war sharply upward to at least 93,000 Thursday, lending new urgency to Obama administration discussions this week of US options in the deepening conflict.
The UN's new official figure of 93,000 deaths as of the end of April suggests that at least 5,000 fighters and civilians – among them many children – are dying in the war in Syria each month. The new figure is more than 30,000 higher than the last official figure issued in November.
In announcing the figures, the UN commissioner for human rights, Navi Pillay, said indications that the Assad regime is preparing a major offensive to try to retake the northern city of Aleppo could portend another sharp increase in casualties.
Reports of a coming Aleppo offensive have prompted opposition leaders to warn supporters in the West that it may be now or never to help rebel fighters, who already face arms and ammunition shortages and who are increasingly outgunned by forces loyal to President Bashar al-Assad. The Assad regime is widely considered to have regained the upper hand in the war in recent weeks, especially as Iran-backed Hezbollah fighters have joined the battle on Mr. Assad's side.
---