As Taliban prepares for peace talks, US braces for disappointment
The Taliban will open a political office in Qatar, the White House announced Tuesday. This would help prepare for reconciliation talks in which the government of Afghanistan and the US would take part.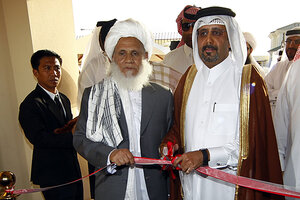 Osama Faisal/AP
After more than a decade of war, the Taliban will be opening a political office in Doha, Qatar, this week in preparation for reconciliation talks with the United States and the government of Afghanistan, the White House announced Tuesday morning.
Senior administration officials, speaking on background, praised the move as a major step in the peace process, but they also batted away any high hopes that the talks will mark an end to fighting – opting instead to keep expectations low.
"I wouldn't be looking for early results," said a senior administration official. "The level of trust on both sides is extremely low, as one might expect," he added.
"It's going to be a long, hard process – if indeed it advances significantly at all."
The US will "facilitate and encourage" the talks, but senior administration officials also emphasized that "this is a negotiation that will have to be led by the Afghans."
Senior administration officials also praised Pakistan as being "particularly helpful in urging the other side – that is, the Taliban – to come to the peace process."
The opening of the Taliban office in Doha has been the result of "months and months" of negotiations with a handful of "core players," including Afghanistan, Pakistan, Qatar, and the US.
President Obama and Afghan President Hamid Karzai discussed the opening of the office extensively during Mr. Karzai's visit to Washington this past January, a senior administration official adds. Such an office has also been talked about prior to this year.
The office will house "fully authorized representatives" of the Taliban.
---