Taliban peace talks hold glimmer of hope, but also unanswerable questions
No one is predicting an easy road ahead for the peace talks. One key question: How united are the Taliban's political and military wings behind this latest reconciliation effort?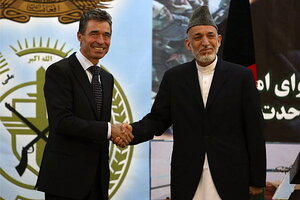 Omar Sobhani / Reuters
The announcement by US officials Tuesday of imminent peace talks between the Afghan government and representatives of the Taliban adds an additional hopeful note to a day when NATO formally announced the full turnover of security leadership to Afghan forces.
The announcement of talks reaches toward the US goal of advancing Afghan reconciliation before the departure of all US-led NATO troops from Afghanistan by December 2014. Still, no one is predicting an easy road ahead, let alone guaranteed success after years of sputtering peace initiatives.
Even US officials announcing the upcoming talks were cautious about prospects for a dialogue that is to start with US-Taliban discussions as early as Thursday. That dialogue would be quickly followed by direct negotiations between Afghan officials and Taliban representatives.
Tuesday's developments "represent an important first step towards reconciliation -- a process that, after 30 years of armed conflict in Afghanistan, will certainly promise to be complex, long, and messy," a senior Obama administration official said, adding, "Nonetheless, this is an important first step."
One reason for the US optimism – as tempered as it may be – is that the Taliban released a statement committing to two principles that the United States had been calling on the Taliban to publicly adopt: One is simply that the Taliban support an Afghan peace process, while the second is that they oppose the use of Afghan soil to threaten other countries.
In other words, Al Qaeda shouldn't expect to look to the Taliban for support to return to Afghanistan.
The Taliban released the statement in Doha, Qatar, where they will open an office and where the talks will start.
---