Edward Snowden gives countries a chance to thumb nose at US
The US has long emphasized the importance it gives to the human rights of the citizens of the nations it is dealing with. Now, countries aiding Edward Snowden as he tries to evade US justice can turn the tables on the US.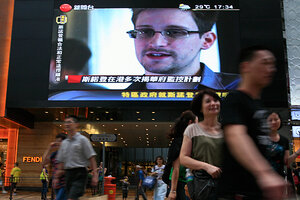 Kin Cheung/AP
The carefully planned journey of Edward Snowden from Hong Kong to Russia – then to Cuba possibly, before ending up in Ecuador to seek political asylum? – underscores just how many countries, big and small, are happy to have an occasion to stick it in the eye of the United States.
The US and the Obama administration in particular are quick to emphasize the importance they give to the human rights of the citizens of the countries they are dealing with. Needless to say, however, those countries don't always take well to American lesson-giving.
With the case of Mr. Snowden – a former National Security Agency contractor who leaked details of top-secret American and British surveillance programs and who is now sought by the US on espionage charges – those countries have a chance to turn the tables on the US.
In a conference call with reporters Monday, WikiLeaks founder Julian Assange said, "I simply do not see the irony" – that countries whose human rights records are deeply questioned by international rights groups, as well as by the US, seem to be the ones most willing to aid Snowden in his flight from US justice.
China is accused of broadly limiting personal freedoms and targeting dissidents, Russia received an international black eye last year for the high-profile prosecution of members of the Pussy Riot feminist punk-rock group, and Ecuador is under fire from rights groups for a succession of laws limiting personal freedoms – including one this month that prohibits news organizations from publishing classified or confidential government documents.
---