Should US suspend military aid to Egypt, to try to speed new elections?
US influence over events in Egypt is scant. But the US does give $1.6 billion a year in aid, mainly to Egypt's military – and some argue that now is the time to use those dollars as leverage to speed new elections and a return to constitutional order.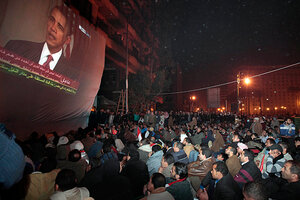 Lefteris Pitarakis/AP
Now that Egypt's first democratically elected president has been removed from office by the country's powerful military, the United States can try to use its leverage to get what it would like see: a return to constitutional order and an elected government, through elections including all of Egypt's political factions, in short order.
But US ability to influence events and leaders in Egypt is scant, as ex-President Mohammed Morsi's year in power and Tuesday's coup against him demonstrate.
Although most Egyptians seem to suspect that America's heavy hand is behind every major move in their country, it is evident that the Obama administration, starting with President Obama, was unable to deter Mr. Morsi from his authoritarian drift over recent months. Nor was it able to dissuade the Egyptian military, with which the US has long ties, from ousting Morsi and arresting him and dozens of other officials from Morsi's Muslim Brotherhood.
On Friday, the military intervened against pro-Morsi rallies across Egypt, with resulting violence claiming the lives of at least six demonstrators, according to news reports.
---