Is Edward Snowden stuck in Russia?
Edward Snowden's announcement Friday that he is seeking temporary refuge in Russia may indicate that all his 'offers of support or asylum' from other nations are not panning out as the NSA leaker may have hoped.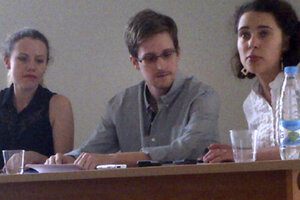 Tanya Lokshina/Human Rights Watch/AP
Fugitive leaker Edward Snowden says he will seek temporary asylum in Russia – a move that suggests his search for refuge from US law enforcement may be faltering.
With the three Latin American countries that recently offered Mr. Snowden asylum having gone silent, and with the White House, on Friday, cautioning Russia not to offer the former NSA contractor a "propaganda platform," Snowden apparently decided it was time to speak, emerging for a press conference Friday at the Moscow airport where he has been stranded since June 23.
Snowden expressed thanks for "all offers of support or asylum I have been extended," but his decision to seek asylum in Russia – an option he turned down once already because of the restrictions Russian President Vladimir Putin said would accompany it – suggests that those other "offers" are not coming together as Snowden may have hoped.
Venezuela, Bolivia, and Nicaragua have offered Snowden asylum, but Snowden's decision to try to stay in Russia suggests, at least, that he is having difficulty arranging transport to those countries. Most commercial flights to reach those countries would cross either US airspace or the airspace of countries in Western Europe that are friendly to the US and that could try to force a plane down to seize Snowden.
---