Middle East peace talks: Finding believers amid the skeptics
The chances of a full Israeli-Palestinian peace deal emerging from the talks being pushed by John Kerry are slim, Middle East experts say, yet even some skeptics believe there could be benefits.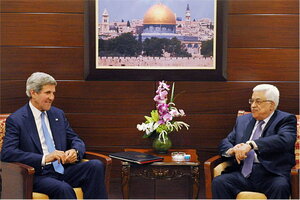 Mandel Ngan/Pool/AP
The Israeli-Palestinian peace talks that Secretary of State John Kerry announced last week still have no date, and most regional experts are giving any resumed peace process long odds of success – especially as leaders from the two sides seem to pile on conditions for simply sitting down together.
Even the White House expressed what spokesman Jay Carney on Monday called "very cautious optimism" about Mr. Kerry's initiative, while many seasoned analysts of the decades-old Israeli-Palestinian conflict see almost no chance that a comprehensive settlement can be negotiated in the coming year – roughly Kerry's timeframe for the effort.
So why are others – among them some of the strongest skeptics about the chances of a comprehensive accord any time soon – supportive of the effort, and convinced that it can actually deliver something?
The simplest explanation is that, at least in the eyes of some, and after three years of almost no high-level contact between the two sides, talking will be better than not talking.
"While one should be extremely cautious about any major progress in the immediate term," Kerry's initiative nevertheless demonstrates that "the Israelis and Palestinians are still able to talk to each other," says Hussein Ibish, a senior fellow at the American Task Force on Palestine in Washington. "We've gone from nothing to something," he adds, and "you've got to start with something."
But there are other reasons. Dialogue between Israelis and Palestinians despite the upheaval in the Middle East would send an important message to the region's people, some experts argue. Frustrated Palestinian youths chafing at continued occupation may be less likely to launch a third intifada, especially if talks are accompanied by pressure-reducing steps like an Israeli prisoner release, others suggest. The Palestinian Authority, they add, would be less likely to launch tension-provoking initiatives on the international stage, such as seeking International Criminal Court (ICC) action on Israeli occupation of Palestinian lands.
---