As Iran installs new leader, House could pass more sanctions. Right signal?
Hassan Rohani, a moderate cleric, is set to take office as Iran's president on Sunday. Some say new sanctions send the right message about Iran's nuclear program, while others say they could stifle any improvement in relations.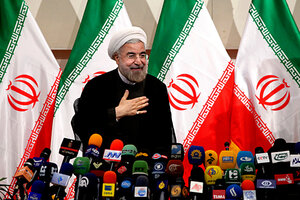 Ebrahim Noroozi/AP
When Iran elected a moderate cleric to succeed the fiery Mahmoud Ahmadinejad as the country's president last month, President Obama sought to encourage what some saw as an important political shift by calling for improved US-Iran relations.
Mr. Obama said the election of Hassan Rohani opened the way to "a more serious, substantive" relationship with Iran – interpreted widely as the president's hope that the United States and Iran might add bilateral negotiations to international talks on Iran's nuclear program.
But now that Mr. Rohani is about to take office as Iran's president, some in Congress want to send a different signal to Tehran by approving a new round of sanctions aimed at further stifling the Iranian economy. Rohani is set to be inaugurated Sunday.
Which is the better approach for getting Iran to accept internationally verifiable limits on its nuclear program?
The House is expected to answer that question Wednesday by voting to slap tough new limits on Iran's already heavily sanctioned oil industry, as well as on other sectors of the ailing Iranian economy.
Yet even though the House measure could not take effect until the Senate can act on its own version of the bill – probably in September – advocates of a more cooperative approach with the new Iranian leadership say the House vote is coming at the wrong time. They worry that any vote in the US for new sanctions would be received in Iran as a slammed door just as Rohani takes office – and would probably snuff out any hope of better US-Iran relations.
A House vote for new sanctions "will be seen as the first formal American response to Rohani's victory," says Trita Parsi, president of the National Iranian American Council, a group that advocates improved relations with Iran. Sending such a signal now would be seized upon by Iran's hard-liners to undercut Rohani's stated desire for more cooperative engagement with the West, he says, and makes sense only "if the objective is to prevent talks [between the US and Iran] from happening."
---