Al Qaeda embassy threats: Sign of shrinking ambition? (+video)
Al Qaeda is growing, according to some measures, but as it evolves its focus is less on the American homeland than on striking interests abroad, like embassies, according to one study.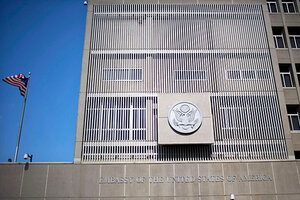 Ariel Schalit/AP
[Updated 3:30 p.m.] The closure of 19 embassies Sunday and the issuing of a month-long global travel alert for all Americans abroad shows how Al Qaeda's threat to the United States has evolved since 9/11 – and how the US response has evolved, too.
The closed embassies are all in an arc that runs from North Africa through the Middle East to Afghanistan, and the information suggests that the primary threat comes from Al Qaeda in the Arabian Peninsula (AQAP) – the Yemen-based Al Qaeda branch that many experts say is now the movement's strongest.
Officials with knowledge of the intelligence that led to the closures say the intercepts point to discussion of actual operations, not just typical chatter.
Some Obama administration critics have hailed the decision, with Rep. Peter King (R) of New York, who has been briefed on the threat, telling CNN: "I think the government is doing exactly the right thing here."
The closures are both a testament to Al Qaeda's persistent threat and perhaps also an indicator of how its aspirations have contracted since 9/11.
---