Chemical attacks in Syria. Where's the proof Assad was responsible?
So far, no convincing evidence has been made public proving that Bashar al-Assad used chemical weapons to kill hundreds of Syrian people. That has left the door open to alternate scenarios and conspiracy theories.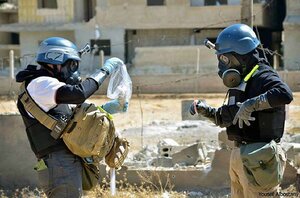 United Media Office of Arbeen/AP
As the Obama administration fights for political and diplomatic support for attacking the regime of Bashar al-Assad over chemical weapons in Syria, one critical issue remains unclear.
Who, exactly, used these weapons of mass destruction to kill hundreds of Syrians?
So far, no slam-dunk, smoking-gun evidence – the kind that proved to be so elusive in Iraq 10 years ago – has been produced. That has left the door open to alternate scenarios and conspiracy theories about who was responsible – the Assad regime or rebel groups backed by outside forces.
In his initial statement 10 days ago about the use of chemical weapons in Syria, Secretary of State John Kerry was adamant about who was to blame for an attack in the suburbs of Damascus that he said killed 1,429 people, including 426 children.
"We know where the rockets were launched from, and at what time," Secretary. Kerry said, citing but not detailing intelligence reports. "We know where they landed, and when. We know rockets came only from regime-controlled areas, and went only to opposition-controlled or contested neighborhoods."

"We know that a senior regime official who knew about the attack confirmed that chemical weapons were used by the regime," Kerry added.
In blasting what she called a "blatant violation of international law, a war crime, and a crime against humanity," European Union foreign-policy chief Catherine Ashton also pointed a finger at President Assad for the Aug. 21 chemical attack.
---