Lethal injections: U.S. Supreme Court takes up death-penalty logjam
On Monday, the court hears arguments on whether Kentucky's lethal injection is too painful.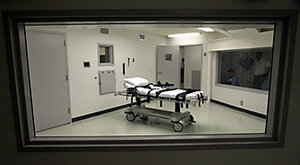 AP/FILE
Ralph Baze is on Kentucky's death row because in January 1992 he used an SKS assault rifle to ambush a sheriff and his deputy when they arrived at his house to arrest him.
He shot the sheriff three times in the back. The deputy returned fire until he ran out of bullets. When the lawman tried to retreat, Mr. Baze shot the deputy twice in the back. As the deputy lay on the ground bleeding, Baze walked up to him and shot him in the back of the head.
The facts underlying Baze's conviction and death sentence are undisputed. No one claims he's innocent. What brings Baze and his lawyers to the US Supreme Court on Monday is their concern that the lethal injection protocol Kentucky plans to use to execute Baze might be too painful.
It is not a frivolous claim. The Eighth Amendment bars the government from inflicting cruel and unusual punishments.
A government-sanctioned execution must be tempered to avoid wanton and unnecessary infliction of pain and suffering. But the end of human life is frequently accompanied by pain and suffering, so how much pain is too much pain in a death row execution?
That is what the justices are being asked to decide in the potential landmark case, Baze v. Rees.
"Obviously the Supreme Court is not going to outlaw lethal injection executions," says David Elliot of the National Coalition to Abolish the Death Penalty. "But for the first time, someone might stand up and say, 'Hey, there have to be standards to do this.' "
Lawyers for the state of Kentucky say the Eighth Amendment prohibits any execution method that carries a "substantial risk" of the unnecessary and wanton infliction of pain.
Lawyers for Baze embrace a standard more protective of death row inmates. They say execution methods that involve "an unnecessary risk" of pain and suffering should be barred.
---