Supreme Court case: Should you be able to vote without a photo ID?
Arguments over Indiana's voter-identification law, the most stringent in the US, will be heard Wednesday.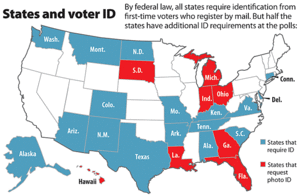 SOURCE: National Conference of State Legislatures/ RIch Clabaugh–STAFF
In 2005, the Indiana state legislature passed a law requiring all voters to show government-issued photo identification before being allowed to cast a ballot.
State officials promoted the measure as protection against voter fraud. Opponents denounced it as a thinly veiled attempt to suppress Democratic voter turnout in Indiana.
On Wednesday, the issue arrives at the US Supreme Court where the justices are being asked to decide whether requiring would-be voters to show photo ID violates the right to vote.
The case is being closely watched because it could establish new constitutional benchmarks in advance of the approaching 2008 general elections. If the high court upholds the Indiana law, the action would give a green light to the kinds of aggressive efforts to fight voter fraud favored by many Republicans. If instead the court invalidates the Indiana law, it would signal a heightened duty to keep it as easy as possible for all citizens to exercise their right to vote.
"This case is going to have serious ramifications not only for photo-ID laws but for what the right to vote means, and to what extent state and local governments have the ability to infringe that right," says Jon Greenbaum, director of the Voting Rights Project at the Lawyers' Committee for Civil Rights Under Law.
Other analysts say the Indiana voter-ID case is being blown out of proportion.
"There may be much less at stake in this case than meets the eye," Bradley Smith, former chairman of the Federal Election Commission, said in a recent press briefing. "For all the excitement it has generated, the fact is there is very little evidence that there is a lot of voter fraud that these [ID] laws will prevent, and there is very little evidence that people aren't able to vote because of these laws."
---