Life in prison for Padilla?
In sentencing, the judge must find that the convicted Al Qaeda recruit aimed to influence a government. But his trial has scant record of motive.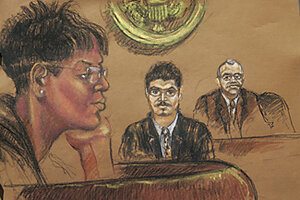 Shirley Henderson/AP/FILE
The US government's efforts to sentence convicted Al Qaeda recruit Jose Padilla and two codefendants to life in prison may have hit a snag.
Under federal sentencing guidelines, the three men could receive much shorter prison terms – perhaps 10 years or less. But prosecutors are asking US District Judge Marcia Cooke to authorize a "terrorism enhancement" to their sentences.
If the judge agrees, Mr. Padilla, Adham Hassoun, and Kifah Jayyousi could spend the rest of their lives in solitary confinement in a maximum-security prison.
But first Judge Cooke must answer this question: Were the three men's crimes calculated to coerce or influence a government?
If the answer is yes, the terrorism enhancement could apply, under the sentencing guidelines. If the answer is no, or if the judge is unable to answer the question, the terrorism enhancement is off the table. Cooke's ruling on the issue could come as early as Tuesday as the Padilla sentencing hearing extends into its second week.
The government influence question is designed to act as a fire wall within the sentencing guidelines to separate ordinary criminal activity that does not warrant substantial extra punishment from terrorism crimes, which do. What makes the question potentially difficult for the judge to answer is that prosecutors fought successfully during the trial to exclude any discussion or consideration of the defendants' motives.
---