U.S. charges six to start 9/11 military trials
They're the first to be tried in Guantánamo's war court for direct ties to plot.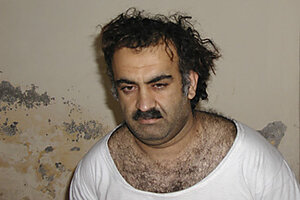 AP/FILE
Pentagon efforts to seek the death penalty for six Guantánamo detainees suspected of involvement in the 9/11 terror attacks will pose a substantial test for a makeshift military-tribunal system, which has yet to produce a single verdict at trial.
Defense Department officials announced on Monday the filing of formal charges against alleged 9/11 mastermind Khalid Sheikh Mohammed and five other Al Qaeda suspects. They were charged with involvement in planning or helping to coordinate the attacks that killed nearly 3,000 individuals at New York's World Trade Center, the Pentagon, and aboard a hijacked airliner that crashed in Pennsylvania.
In announcing the charges, Air Force Brig. Gen. Thomas Hartmann said the defendants participated in a "long-term, highly sophisticated organized plan by Al Qaeda to attack the United States of America."
All six were charged with conspiracy to commit war crimes, including murder, attacking civilians and civilian property, terrorism, and providing material support to terrorists.
Under Defense Department procedures, the charges will now be forwarded to the convening authority for military commissions, Susan Crawford, a former military appeals court judge, who must determine if there is probable cause to support the charges and whether to approve the potential punishment of death.
---