High court to hear Exxon Valdez damages case
At issue: Should the company pay $2.5 billion in punitive damages for the 1989 oil spill?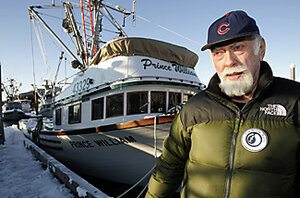 Al Grillo/AP
Nineteen years after the tanker Exxon Valdez spilled some 258,000 barrels of oil into the pristine waters of Alaska's Prince William Sound, the debate still rages over how much Exxon should pay beyond the $3.4 billion it has already spent on cleanup.
On Wednesday, that question arrives at the US Supreme Court, where the justices must decide whether to uphold a $2.5 billion punitive-damages judgment against Exxon Shipping. It is said to be the largest punitive damages award ever sustained by a federal appeals court.
The case, Exxon Shipping Co. v. Grant Baker, is being closely followed by shipping executives, environmental activists, oil-industry officials, and commercial fishermen, among others. It has also attracted the attention of scholars monitoring the Supreme Court's emerging jurisprudence on excessive punitive damages.
Lawyers for Exxon offer three main arguments for invalidating the punitive damages.
Under maritime law, Exxon should not be held liable to pay punitive damages for the negligent acts of a tanker captain at sea unless there is evidence that Exxon directed or participated in grounding the tanker, they say.
Second, the Clean Water Act establishes a comprehensive regime to punish and deter illegal behavior that pollutes the nation's water resources. But Exxon lawyers say Congress did not include a provision in the act permitting punitive damages.
Third, the lawyers say punitive damages are unnecessary in a situation like the Exxon Valdez cleanup where Exxon has already willingly paid criminal and civil fines, penalties, compensatory damages, cleanup costs, and other expenses.
---