San Quentin's self-rehab: healing on the inside
A self-rehab prison program aims to distinguish between the person and the crime.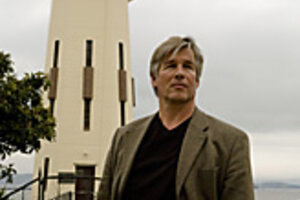 Robert Gumpert
When he stands, Gerry Harris towers over everyone in the room. He's bald, with a salt-and-pepper beard that climbs to his temples and big, almost square glasses. His presence is gentle, even when he's agitated, which he is now. "Three minutes," he tells the men in the room. "I can't account for three minutes. I might never get them back."
They are the three minutes between when Mr. Harris, an elementary school teacher, caught a man molesting a 6-year-old boy, and when he shot the molester. He's lost those three minutes, and, without them, it's difficult to come to terms with San Quentin State Prison, where Harris is serving five and a half years.
Jacques Verduin calls this the moment of imminent danger. Identifying this point between anger and violence is one of the things he's trying to teach this room of 12 men, all dressed in blue shirts and dark blue pants that say "PRISONER" in yellow letters on the right leg.
Prison, Mr. Verduin says, treats men as failures whose violent behavior nullifies their right to make decisions. That model leaves them ill-equipped to do anything but repeat that behavior outside, he thinks, so he started the Insight Prison Project, which run 18 programs for 300 men at one of America's most notorious prisons. His goal is to introduce a more productive kind of rehabilitation – one he believes in so deeply that he continues to run the programs at no cost to the prison. "We're saying we're going to welcome you in as somebody who forgot who he was when he did what he did," says Verduin, "and we're going to help each other remind ourselves of who we are ... because a lot of us don't know."
Verduin remembers a class of men serving life terms. Between the 18 of them they'd served 403 years. Then they added up the lengths of their moments of imminent danger. "Forty-three minutes," he says. "That's all.... To then call everybody who's not successfully negotiated that moment a monster – not to distinguish between the person and his behavior – that's a huge price to pay as a culture."
---