'State secrets' privilege fuels surveillance bill battle
Friday's House vote, ignoring veto threat, is latest bid by Democrats to rein in White House powers.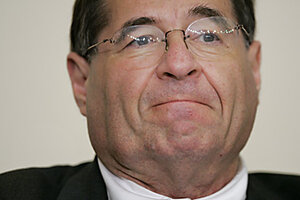 haraz n. ghanbari/ap/file
House Democrats are hunkering down for a long siege with President Bush over his administration's terrorist surveillance program.
Democrats are aiming to rein in the White House's power to wiretap without a warrant and assert "state secrecy" in key court battles.
As Congress broke for a two-week recess last Friday, President Bush warned that the latest House version of the surveillance bill would "undermine America's security."
"This bill is unwise. The House leaders know that the Senate will not pass it. And even if the Senate did pass it, they know I will veto it," he said.
But Democrats are convinced that the public mood has shifted since August, when bipartisan majorities in both the House and Senate passed temporary changes in the Foreign Intelligence Surveillance Act (FISA) that the White House said were necessary to defend America against terrorists. That law expired Feb. 16.
At the heart of the dispute now is whether to grant retroactive immunity to telecommunications companies now facing lawsuits over their cooperation in warrantless surveillance.
The Bush administration argues that liability protection is crucial to national security. Facing multibillion-dollar class- action suits, telecommunications companies will be less willing to cooperate in antiterrorist surveillance, say top officials.
---