Low graduation rate draws Florida lawsuit
The case against the Palm Beach County district aims to clarify its duty to keep more kids in school.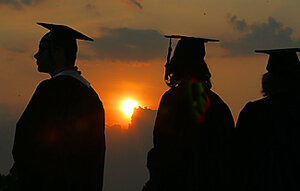 Terry Barner/The News Herald/AP
Amid mounting national frustration over high school graduation rates, the School District of Palm Beach County in Florida has been thrust onto center stage.
In a class-action lawsuit, the American Civil Liberties Union is demanding that the district boost its graduation rates and reduce the gaps in those rates between racial and socioeconomic groups. The lawsuit is the first in the United States to make such demands of a school district, the ACLU and other sources say.
Lawyers from the national ACLU and its Florida chapter filed the suit in state court on March 18. Specifically, the ACLU is asking the court to require the district to improve its graduation rates by a certain percentage each year – overall and for subgroups. It also wants the court to determine a more accurate way of calculating graduation rates – a complex issue nationwide.
For educators and education experts, the case raises some controversial questions: What is an acceptable rate of graduation? And who should be held responsible when schools miss the mark – schools, students, society?
"If the ACLU is successful, this is going to shake everything up, because it will be a whole different set of expectations about who is supposed to solve the problems," says Paul Houston, executive director of the American Association of School Administrators in Arlington, Va.
---