Reporter cracks open scores of civil rights-era cases
His efforts have helped to heal his community, and himself.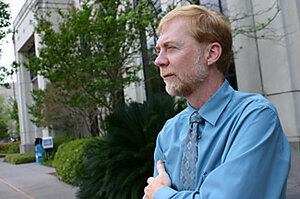 patrik jonsson
The conspiracy was so wide and out in the open that Jerry Mitchell spent the first quarter-century of his life completely oblivious to it.
The systematic coverups for the white men who terrorized and killed blacks and white civil rights workers in the 1960s had, in that era, proved an impenetrable wall for law enforcement, as jury after jury sat silent and failed to convict.
But after Mr. Mitchell, then a young-gun reporter at the Jackson Clarion-Ledger, unearthed secret documents in 1989 that confirmed that the state of Mississippi spied on its own people – some who ended up killed – the unassuming, but subtly irascible reporter says he "started going down rabbit holes" contained in reams of leaked state and Federal Bureau of Investigation documents.
The result is a 20-year campaign of cold-case reckoning that has directly or indirectly led to 23 convictions for civil rights-era crimes and, in part, the opening of as many as 100 more cases by the FBI – a dossier of sleuthing that has forced a whole region to come to terms with its most painful legacy. At the same time, Mitchell's journey has become increasingly personal, one man coming to terms with his own ignorance and ancestral complicity, as he hunts down aging white men living in kudzu-draped redoubts.
"These cases were the height of injustice," says Mitchell during an interview in his double-wide cubicle in the Clarion-Ledger's newsroom. "They weren't just getting away with murder, but everyone knew it."
---