Thorny issues in prosecuting polygamist sect
One question is whether Texas will retain custody of 416 children. Experts say criminal charges are likely, too.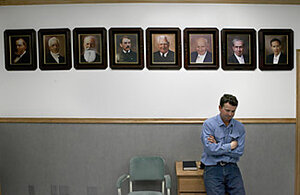 Keith Johnson/Deseret News/AP
By removing more than 400 children from a religious compound in Texas earlier this month, state authorities carried out one of the largest mass removals of minors from their parents in the country. They also set in motion a future face-off between the state and a religious movement that seeks to live in a closed society, making oversight difficult if not impossible.
Those 416 children are now in state protective custody near Eldorado, Texas, where the Fundamentalist Church of Jesus Christ of Latter Day Saints (FLDS) owns the secluded, 1,691-acre Yearning for Zion ranch. One-hundred-thirty-nine women, who willingly left the compound, are with the children.
For the children, the next step comes this Thursday, when state Judge Barbara Walthers has scheduled a hearing to determine if they all should remain in the custody of the Texas Department of Family and Protective Services (DFPS) for a longer period of time, perhaps permanently.
What comes after that depends on whether the state's investigation results in criminal charges against any of the adults at the FLDS compound. Court documents, in which Texas sought judicial approval to search the Yearning for Zion ranch and to take temporary custody of the children, state that many of the men had multiple wives and that several girls younger than 16 were either pregnant or already mothers as a consequence of a "spiritual marriage" to an older man. Texas law prohibits polygamy and marriages before 16 years of age.
---