States divided on approach to polygamous sect
Law officers in Arizona and Utah say their method of confronting the FLDS must differ from that of Texas.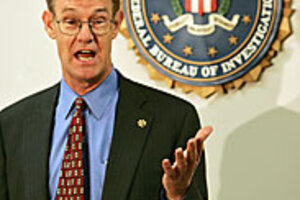 Douglas C. Pizac/AP/FILE
It was a showdown, of sorts, over how far states should go to keep tabs on the Fundamentalist Church of Latter Day Saints, the group known to endorse multiple wives for men and motherhood for underage girls. In a public spat, officials from Arizona and Utah squared off last week against a US senator who suggested that the two states, home to FLDS communities, should follow the more interventionist approach of Texas in cracking down on the breakaway Mormon sect.
At the end of it all, the wrangling may well result in federal involvement in investigating the FLDS, which numbers more than 10,000 and has compounds in several Western states, Canada, and Mexico. But it also underscores why Arizona and Utah have moved with caution in dealing with the FLDS, compared with Texas' decision last month to take temporary custody of all the children living at the group's Yearning for Zion ranch in the wake of abuse complaints.
The dispute began April 28 with a radio interview with Sen. Harry Reid (D) of Nevada, which drew an angry letter from the Arizona and Utah attorneys general.
---