Behind college raid, rising drug use on campus
This week's massive bust at San Diego State highlights the rise in university cooperation with law enforcement.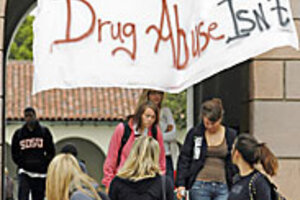 The arrest this week of 96 suspects on drug-related charges, including 75 students, after a six-month sting operation at San Diego State University is shining a fresh spotlight on the issue of growing substance abuse at America's colleges and universities.
The incident also highlights the growing sophistication of on-campus drug sellers and the need for university officials and police to broaden their response capabilities to meet the growing challenge.
"The drug problem on American campuses has become so extensive that more and more university police are finding they don't have the manpower to fight it by themselves," says Joseph Califano, founding chairman of the National Center on Addiction and Substance Abuse at Columbia University (CASA). He says the stakes have risen in recent years with so many more hard drugs being used and sold. Local university police have noticed a big uptick in the numbers of related crimes, such as fights, robbery, property damage, and vandalism.
While the proportion of students who drink and binge has remained constant from 1993 to 2005, rates of daily marijuana use have more than doubled during that period, and use of other illegal drugs like cocaine and heroin have risen 52 percent, according to a CASA study. Just under half of full-time college students indulged in illegal drugs, the study found.
Increasingly in recent years, and especially since the shootings at Virginia Tech last year, campus police at colleges and universities have forged better links with law enforcement.
---
Follow Stories Like This
Get the Monitor stories you care about delivered to your inbox.