Guantánamo detainees win right to court review
The US Supreme Court ruled 5 to 4 Thursday that those held in Guantánamo can challenge their detention.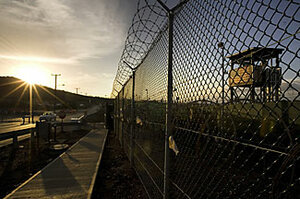 Brennan Linsley/AP
Imprisoned terror suspects at Guantánamo Bay, Cuba, won a major legal victory on Thursday when the US Supreme Court ruled that they have the right to petition US courts challenging the legality of their open-ended detention.
The ruling marks a substantial setback for the Bush administration, which had urged the high court to embrace the government's view that Guantánamo detainees enjoy only a narrow range of legal options in disputing their classification as enemy combatants.
The 5 to 4 decision strikes down a portion of the 2006 Military Commissions Act that sought to strip federal judges in the US of the ability to hear legal appeals filed on behalf of the Guantánamo detainees.
The MCA authorized military tribunals to determine whether detainees were being properly held as enemy combatants. The law also set out a sharply limited appeals process.
"Security depends upon a sophisticated intelligence apparatus and the ability of our Armed Forces to act and to interdict," Justice Anthony Kennedy wrote in the majority opinion. "Security subsists, too, in fidelity to freedom's first principles."
He added, "Chief among them are freedom from arbitrary and unlawful restraint...."
In a dissent read from the bench, Justice Antonin Scalia warned that the court's holding would lead to "disastrous consequences."
"The Nation will live to regret what the court has done today," he said.
The decision arrives only weeks before the first terror suspects are scheduled to stand trial before military commissions at the Guantánamo Bay naval base.
---