Guantánamo Detainees: shorter wait?
Last month's Supreme Court ruling sets new rules for judges examining habeas corpus challenges from detainees.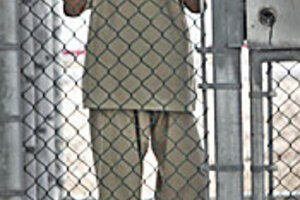 Brennan Linsley/ap
The Bush administration is facing a long, hot summer of fierce litigation over who is, and who isn't, an enemy combatant in the war on terror.
Judges at the federal courthouse in Washington, D.C., are gearing up for an anticipated influx of habeas corpus petitions filed on behalf of terror suspects being held at the Guantánamo Bay, Cuba, prison camp.
The action was prompted by the US Supreme Court's June 12 ruling that foreign detainees at Guantánamo have the right to force the US government to prove the legality of their ongoing detention to a neutral judge. Many of the detainees have been held at Guantánamo for more than six years.
It now falls to the active judges at the US District Court in Washington to carry out the Supreme Court's instructions.
This is not how government lawyers had hoped to spend their summer and the remaining months of the Bush administration. The first military commission trial is scheduled to begin later this month at a specially-constructed judicial complex at Guantánamo Bay. Osama bin Laden's former driver, Salim Ahmed Hamdan, is set to stand trial.
But the Supreme Court's ruling is raising a string of questions not only about habeas proceedings in Washington, but also about whether the commission process itself must now comply with additional constitutional safeguards.
---