Historic first terror trial opens at Guantánamo Bay, Cuba
Hamdan case tests special courts for 'illegal enemy combatants.'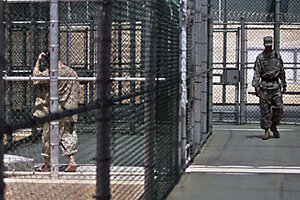 Brennan Linsley/AP
Osama bin Laden's former driver is scheduled to stand trial on Monday in the first war crimes tribunal at America's terrorist prison camp at Guantánamo Bay, Cuba.
The historic action comes nearly seven years after President Bush first moved to establish military commissions to try suspected Al Qaeda terrorists.
The special military commission process was designed to offer a stripped-down version of justice to illegal enemy combatants who, by engaging in terrorism, were said to have forfeited any right to more robust legal protections.
"This is not a law enforcement action; it is war," former Deputy Defense Secretary Paul Wolfowitz said, defending the use of military commissions before a Senate panel in December 2001 – three months after the 9/11 attacks.
Military commissions have been used throughout US history. George Washington used them during the Revolution. Abraham Lincoln authorized them during the Civil War. And those accused of plotting President Lincoln's assassination were tried by a military commission.
In 1942, Franklin Roosevelt put a group of would-be German saboteurs on trial by secret military commission in Washington. The action was upheld by the US Supreme Court and provided a model for the Bush Administration.
---