Showdown over a Texas execution
The state plans to execute a Mexican national on Aug. 5, despite objections of the World Court.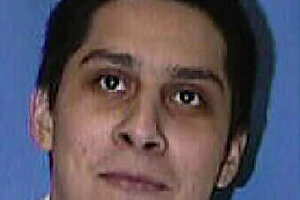 Texas department of criminal Justice/ap
The United States is fast approaching a showdown over its commitment to the rule of international law as Texas prepares to carry out the scheduled Aug. 5 execution of convicted killer and rapist Jose Medellin.
On July 14, the International Court of Justice at The Hague ordered the US government to "take all measures necessary" to prevent the execution of Mr. Medellin and four other Mexican nationals awaiting execution dates on death row in Texas.
But Medellin is in the custody of Texas authorities, not the federal government, and the Texas governor says he intends to push forward with the execution next Tuesday.
Congress could take quick action to defuse the international imbroglio, but legal analysts say intervening in the Medellin case would be politically risky for national lawmakers in an election year.
The case highlights a heated debate over the relevance of international legal rulings in the American justice system. It is a flash point in an ongoing rivalry pitting American law against international law, and the controversy is playing out in an emotional case involving race, rape, murder, and capital punishment Texas-style.
---