How did anthrax suspect Ivins keep security clearance?
The army microbiologist sought aid for mental health years ago.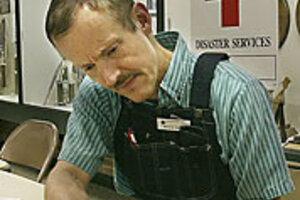 AP/file
Army microbiologist Bruce Ivins may or may not have been the anthrax killer. But FBI documents about his case released Wednesday raise another troubling question: Why did he retain security clearance and access to deadly pathogens, despite years of strange – sometimes disturbing – behavior?
It is possible Dr. Ivins's superiors were unaware that he had sought help for mental-health problems as early as 2000. And perhaps the FBI did not want to alert him to their suspicions by starting a formal clearance review.
It is also possible that family members and co-workers were reluctant to report his actions. Sometimes, people don't take the security clearance process as seriously as they should, says a lawyer who handles similar cases, even at a facility as sensitive as Ivins's workplace.
"It's an exceptional case. It could be that it just slipped through the cracks," says attorney Mark F. Riley, a retired Army intelligence officer.
Ivins's security clearance and access to labs at Fort Detrick's US Army Medical Institute of Infectious Diseases were not pulled until November 2007, according to Justice Department officials. Ivins committed suicide last week as the US government readied charges against him.
Yet the FBI had requested a sample from a flask of anthrax spores which Ivins held as early as 2002. In April 2004, after discovering that the samples Ivins submitted in fact had not come from the requested flask, RMR-1029, an FBI agent accompanied Ivins into a biocontainment suite at Fort Detrick to seize the flask.
---