Guest workers win in court over low pay
Increased rights from recent rulings in San Francisco and Atlanta, Georgia, may force a rethinking of this immigration program.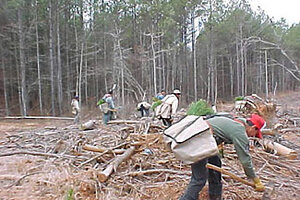 Josh McDaniel/file
Federal judges on both coasts this month awarded major settlements to Hispanic guest workers in rulings that could alter the US immigration debate and potentially offer new jobs to Americans.
Last week in San Francisco, a federal judge ordered back pay to , the original guest workers from Mexico who laid track for American rail companies in the World War II era.
A few days earlier in Atlanta, another federal judge ruled that 3,000 pineros, the "men of the pines" who plant the massive pine plantations of the deep South, have been grossly underpaid and subjected to capricious industry rules made possible by the workers' social and physical isolation. The court also ordered compensation.
The rulings offer troubling insights into how US industries, especially in the South, exploit foreign guest workers under the loosely regulated H-2B visa program.
The court's orders to companies to pay prevailing hourly wages instead of lower piecework fees could force US timber companies to look for new labor sources – whether undocumented immigrants or out-of-work Americans – to do the backbreaking planting work with tools called dibble sticks and hoedads.
"The big question is: Are these the kinds of programs that should be the model for immigration reform?" says Mary Bauer, the pineros' attorney. "Whatever you think on paper ... in the real world these programs should give us pause."
Nearly half of the 66,000 "nonagricultural" guest workers in the 22-year-old H-2B program toil in America's deep woods. Hailing primarily from the Mayan highlands of Guatemala, they've been major players in the shift since the mid-1980s of forestry work from the virgin forests of the West to pine plantations sprouting up on disused cotton fields in places like Alabama's Black Belt.
---