In Guantánamo case, a judge tightens the screws on the US
He is insisting that the government disclose any evidence that points to a detainee's innocence in a 'dirty bomb' plot.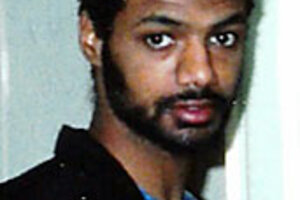 PA WIRE/AP/File
A major battle is brewing in federal court here over the well-established legal requirement that the government must turn over any exculpatory evidence it has uncovered to an accused criminal it is seeking to imprison.
But what if that person is a suspected terrorist being held as an enemy combatant at Guantánamo Bay, Cuba?
That's the issue before US District Judge Emmet Sullivan, who is presiding over a high-stakes legal dispute involving allegations that US intelligence agents secretly sent a man to Morocco for 18 months of torture before transferring him to prisons in Afghanistan and then Guantánamo.
Judge Sullivan has ordered the government to turn over exculpatory evidence about the man, but Justice Department lawyers are seeking to narrow the judge's order.
The issue arises in the case of Binyam Mohamed, an Ethiopian-born former British resident accused of plotting with American citizen Jose Padilla to detonate a radiological "dirty bomb" in the US. Mr. Mohamed has been held at Guantánamo for four years and has filed a habeas corpus petition challenging the legality of his continued military detention.
---