At overcrowded Florida prisons, some inmates may just camp out
The state's plan to house some inmates in tents could save money, but it's drawing criticism.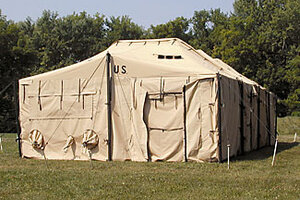 Johnson Outdoors Gear/AP/File
Florida's balmy winter temperatures have long been a draw for visitors eager to spend some time under canvas, sleeping on cots and enjoying the great outdoors. But a new plan to expose some of the state's inmates to the delights of year-round 'camping' has failed to evoke the same enthusiasm.
Faced with a budget deficit of $2.3 billion, Florida is saving money by buying giant tents to house prisoners at nine of its 137 facilities. With its prison population having passed 100,000 for the first time this month, corrections officials say that the hundreds of extra beds will also help address potential overcrowding problems.
The state isn't the first to try the idea. Michigan, Colorado, Arizona, and Hawaii are among those that have considered or used tents to better manage prison populations.
But Florida, with the third-largest corrections system in the country (after California and Texas) is the biggest and the first to try it on such a scale.
So far 36 tents, each able to house 22 inmates, have been set up at eight prison sites in north Florida, and one in the south, and the state has 20 more in reserve.
---