Fallout from Madoff scandal: new safeguards?
Congress ponders its options – from better investment policing to a new watchdog.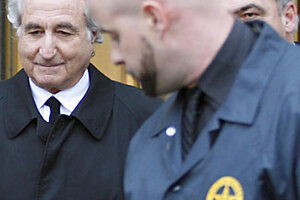 Kathy Willens/AP
If there is a lesson to be drawn from Bernard Madoff's alleged $50 billion financial fraud, it is that the United States needs a new legal and regulatory structure to protect investors in the 21st century.
That appears to be the consensus among Democrats, and some Republicans, on Capitol Hill as lawmakers look toward action in the coming Congress. Proposals range from creating a new securities supercop by combining existing agencies to blocking top regulators from taking jobs in industry to simply increasing the resources devoted to market scrutiny.
"This country will not work if we are not able to restore the confidence of investors that there are places they can put their money that will be both remunerative to them and productive for society," said Rep. Barney Frank (D) of Massachusetts, chairman of the House Financial Services Committee, at a Jan. 5 hearing.
The bottom line is this: The world of finance has become far more complicated in recent years. Washington needs to respond accordingly, according to many experts outside government.
---