In boost for workers, high court affirms shield from employer retaliation
The justices rule that civil rights law protects a woman who was fired after answering questions in a harassment probe.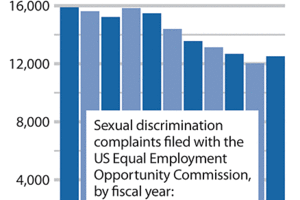 SOURCE: US Equal Employment Opportunity Commission /Rich Clabaugh/STAFF
Employees who provide evidence during an informal investigation of discrimination in the workplace are legally protected against retaliation from the boss or other senior managers.
In an important workers' rights decision announced Monday, the US Supreme Court ruled unanimously that Title VII of the Civil Rights Act of 1964 shields employees from retaliatory acts even when the employee hasn't filed a formal complaint.
In an eight-page decision written by Justice David Souter, the high court cast a broad blanket of protection over American workers struggling in a hostile work environment. Those employees who help identify and root out allegedly discriminatory actions by senior managers and supervisors – even though they may not have filed a formal complaint – are nonetheless protected from retaliation, the court said.
The decision puts managers and supervisors on notice that they face legal consequences if they use their power in the organization to try to cover up their own discriminatory actions by retaliating against complaining employees. In addition, the decision puts employees on notice that, when they come forward to help expose discrimination in the workplace, they clearly enjoy the protections of the law.
The decision comes in the case of Vicky Crawford, a 30-year employee in the payroll department of the Metropolitan Government of Nashville and Davidson County, Tenn. Ms. Crawford agreed to answer questions during an informal inquiry into allegations that the director of employee relations had engaged in sexual harassment of female workers in the office. Among the director's duties was investigation of sexual-harassment complaints.
---