Will the US adjust life at Guantánamo for detainees?
More access by Red Cross workers is likely, but legal analysts are split on whether the prison camp will be less punitive after an Obama-ordered review.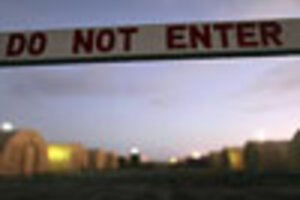 Brennan Linsley/Reuters/File
President Obama's recent order to bring Guantánamo into full compliance with international law requires US officials to make a fundamental judgment about the difference between mere detention and punishment.
Since the terror prison camp opened in 2002, the Bush administration worked to blur that distinction. The question now is whether the new president will force the issue into sharp focus and bring change to Guantánamo prior to its closure.
Lawyers representing Guantánamo detainees say US officials must examine current conditions of confinement at the camp to ensure that those conditions do not cross the line into punishment for men who have never been charged or convicted of a crime.
"The general idea is that prisoners of war aren't supposed to be punished," says Shayana Kadidal, director of the Guantánamo Global Justice Project at the Center for Constitutional Rights.
Announcing his intention to close Guantánamo within a year, Mr. Obama directed the secretary of Defense to undertake an immediate review of the living conditions and treatment of detainees at Guantánamo. The president ordered "full compliance" with "all applicable laws governing the conditions of such confinement, including Common Article 3 of the Geneva Conventions."
How conditions might change for the 245 detainees at Guantánamo is unclear, legal analysts say. Potential issues critics cite include use of solitary confinement, forced feeding of hunger strikers, access to books and religious materials, and communications with family members.
---