Pentagon report on Guantánamo detainees: incomplete?
The Pentagon should have included more laws in its assessment of conditions, some experts argue.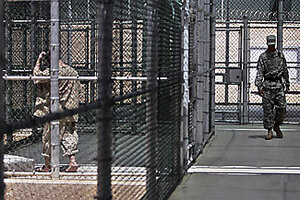 Brennan Linsley/AP
President Obama has pledged to close the US terror prison camp at Guantánamo within a year, but before that happens he must decide whether to continue controversial detention policies enacted under the Bush administration.
Setting the stage for that anticipated policy debate, Mr. Obama issued an executive order last month directing the Pentagon to determine whether detainees at Guantánamo were being held "in conformity with all applicable laws governing conditions of confinement."
Adm. Patrick Walsh, the vice chief of naval operations, conducted a 13-day investigation and compiled an 81-page report. He announced his findings in a press conference on Monday. "After considerable deliberation and a comprehensive review, it is our judgment that the conditions of confinement in Guantánamo are in conformity with Common Article 3 of the Geneva Conventions," Admiral Walsh said.
What he did not tell members of the media – or discuss in his report – is whether operations at Guantánamo are "in conformity with all applicable laws governing conditions of confinement."
The report examines 27 aspects of detention operations – including solitary confinement, forced feeding of hunger strikers, and the use of force by guards – and announces 27 judgments that Guantánamo operations are in compliance with the standards of Common Article 3.
But it leaves unanswered the larger question suggested in the president's order: What other laws apply to Guantánamo detainees?
Common Article 3 is a default provision within the Geneva accords. It provides the bare minimum in safeguards, humane treatment.
In contrast, other sections of the Geneva accords mandate more robust protections.
---