US Supreme Court dismisses alleged Al-Qaeda sleeper agent's appeal
The decision in the Al-Marri case means the president still has the power to hold 'enemy combatants' indefinitely without charge.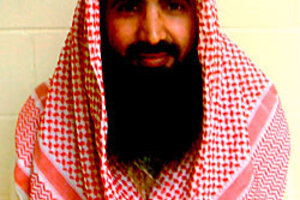 Reuters
It would have been the biggest case of the term resulting in a potential landmark decision, but on Friday the US Supreme Court decided to dismiss the appeal filed by Ali Saleh Al-Marri, the last man being held on US soil as an enemy combatant.
In a one paragraph order, the high court dismissed the case and approved Mr. Al-Marri's transfer from his solitary confinement cell in the Navy brig in Charleston, South Carolina, to a federal lockup in Illinois.
The move means that the justices will not examine the president's power to order the indefinite military detention without charge of anyone he deems to be an enemy combatant. The high court had agreed to take up Al-Marri's case. Oral argument was expected in late April.
But last week, President Obama ordered Al-Marri released from military detention and placed within the criminal justice system. Al-Marri has been held in the brig for five years and eight months.
Government lawyers argued that Al-Marri's Supreme Court case was now moot.
Lawyers for Al-Marri urged the high court to move forward, hear the case, and decide it. They said their client might still be re-designated as an enemy combatant and returned to his old cell in the Navy brig. In addition, they said by moving Al-Marri into the criminal justice system the government might be attempting to dodge high court review and thus preserve a federal appeals court precedent that upheld the president's military detention power.
---