Was 'Hillary: The Movie' wrongly censored?
The Supreme Court hears a case Tuesday about rules governing campaign advocacy and finance.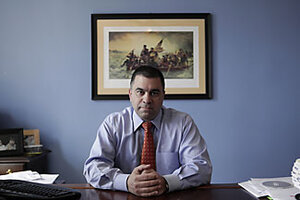 Evan Vucci/AP
The US Supreme Court takes up a closely watched case on Tuesday examining when a documentary film may violate election law and become an illegal form of campaign advocacy.
The case centers on a Federal Election Commission (FEC) decision last year to block pay-per-view broadcasts of a 90-minute film called "Hillary: The Movie," which presents a negative assessment of Hillary Rodham Clinton's record as a senator and first lady. The film was produced by Citizens United, a Washington-based conservative group.
The justices are being asked to decide whether the FEC's action was unconstitutional government censorship that violated the documentary producers' free speech rights.
The case is seen as significant because it presents the high court an opportunity to either uphold or cut back on the McCain-Feingold campaign finance law, which is aimed, in part, at preventing corporations and labor unions from flooding the public airwaves with last-minute political attack ads before elections.
The law doesn't apply just to traditional broadcast advertisements. It bars these groups from using their treasury funds to engage in a wider range of communicative efforts that the government believes might be aimed at influencing the outcome of a federal election.
The FEC is empowered by Congress to decide when a corporation or union crosses the line from acceptable public debate into illegal electioneering.
"Hillary: The Movie" was a prohibited form of electioneering subject to regulation under the campaign finance law, the FEC concluded. The law bars electioneering broadcasts by corporations or unions within 30 days of a primary or 60 days of a general election.
---