Shootings, murder-suicide raise broader question: Is violence linked to recession?
The deaths in North Carolina and California follow other high-profile shootings in recent weeks.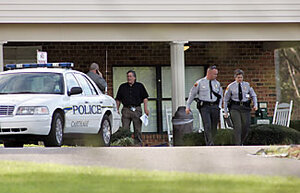 Jim R. Bounds/AP
Four Oakland, Calif., police officers shot down. An Alabama man strolling a small town with a rifle, looking for victims. Seven elderly people shot dead at a North Carolina nursing home. And on Sunday, six people, including four kids, died in an apparent murder-suicide in an upscale neighborhood in Santa Clara, Calif.
The details in all these cases are still emerging. In most, the exact motive has yet to be determined – or may never be fully understood.
On a broader level, however, such incidents may be happening more often because an increasing number of Americans feel desperate pressure from job losses and other economic hardship, criminologists say.
"Most of these mass killings are precipitated by some catastrophic loss, and when the economy goes south, there are simply more of these losses," says Jack Levin, a noted criminologist at Northeastern University in Boston.
Direct correlation between economic cycles and homicides is difficult to prove, cautions Shawn Bushway, a criminologist at the University at Albany in New York. But an economic downturn of this breadth and depth hasn't been seen since data began to be collected after World War II, he also points out. "This is not the average situation," Mr. Bushway says.
---