Souter retirement gives Obama early Supreme Court pick
But the court's balance of power may not change much, as Justice Souter, a conservative choice, consistently voted liberal.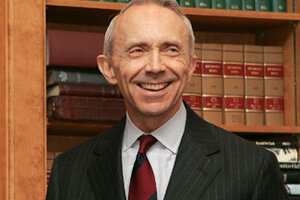 Jim Cole/AP
The retirement of US Supreme Court Justice David Souter, expected in late June, will not significantly alter the balance of power between liberal and conservative wings on the high court. But that does not mean it won't be significant.
In considering his first nomination to the court, President Obama is likely to focus on three factors – gender, youth, and liberal intellectual heft.
The frontrunner for the nomination is believed to be Elena Kagan, 49, the former dean of Harvard Law School who was confirmed as the nation's first female solicitor general on March 19. The Senate vote was 61 to 31.
Also mentioned as potential candidates are Diane Wood, 58, and Sonia Sotomayor, 54, both federal appeals court judges.
Speculation about Mr. Souter's possible retirement had increased as the court's current term moved deeper into the spring. He had not yet hired law clerks for the 2009-2010 term. And the justice had made no secret of his preference for the wooded bliss of New Hampshire over the bustle and political heat of Washington.
Souter long ago suggested to friends that he intended to leave the court while still in his 60s. Sept. 17 will mark his 70th birthday.
A "stealth candidate"
---