Gay marriage fight isn't over in California, activists vow
Legal challenges ensue in federal court, and plans are afoot for a 2010 ballot measure to undo Proposition 8.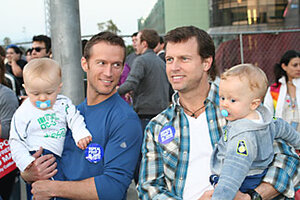 Dan Wood/ The Christian Science Monitor
San Francisco and Los Angeles
A day after California's Supreme Court upheld a ballot initiative banning same-sex marriages, gay and lesbian rights groups were plotting the next stage in an uphill battle to sway public opinion on a deeply divisive issue.
Activists are already crafting a new ballot initiative for 2010 to overturn Proposition 8, the voter-approved measure that amended the state's constitution last year to limit marriage to heterosexual couples. And the first legal challenge came Wednesday morning, when Theodore Olson and David Boies – opposing lawyers in the legal battle over the 2000 election between George W. Bush and Al Gore – together filed an injunction in federal court calling for the restoration of all same-sex marriages in California.
The injunction follows an earlier suit filed Friday, arguing that a ban on same-sex marriages violates the federal guarantee of equal protection under the US Constitution.
But as Prop. 8 opponents gear up for a fight, supporters of the ban are ready to defend the measure. According to The San Francisco Chronicle, they are planning a multimillion-dollar campaign to ensure marriage remains limited to a man and a woman in California.
---