Shooting of two soldiers in Little Rock puts focus on 'lone wolf' Islamic extremists
Did alleged attacker Abdulhakid Mujahid Mohammed act on his own, or was he a trained jihadist?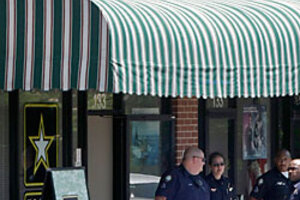 Danny Johnston/AP
The American-born Muslim convert who allegedly shot and killed Army Pvt. William Long and wounded another soldier outside a Little Rock, Ark., mall on June 1 said Tuesday the act was retaliation for the US war on terror, "done for the sake of Allah, the lord of all the world."
Authorities have pegged the Memphis, Tenn., native Abdulhakid Mujahid Mohammed, born Carlos "Corey" Bledsoe, as a "lone wolf" terrorist – going to war alone against his own country, without operational guidance or handlers.
The Federal Bureau of Investigation has thwarted half a dozen home-grown terror cells since 9/11. Authorities say this includes the "Bronx Bombers," who were arrested last month. But lone wolves like Mr. Mohammed have proved more difficult to stop.
While the FBI has been warning about lone jihadists for years, the Little Rock shooting, experts say, is likely to hasten debate over the danger they pose and what effect Washington's shift in tone toward the Muslim world will have on public attitudes and law enforcement. Ultimately, there's also the looming question of whether a broader "force" is directing these lone actors.
---