Convicted 'Cuban Five' spies lose bid for new trial
The Supreme Court refused Monday to hear their appeal. Their lawyers had argued they couldn't receive a fair trial in Miami.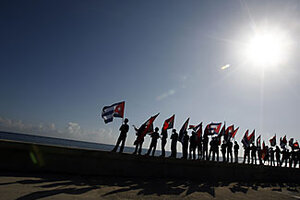 Enrique De La Osa/Reuters
Five Cuban intelligence agents convicted of spying on US military bases and anti-Castro exile groups in south Florida have lost their bid for a new trial outside Miami.
The US Supreme Court on Monday refused to hear their appeal.
Lawyers for the so-called "Cuban Five" had argued that as intelligence agents charged with working for the government of Fidel Castro, their clients could never receive a fair trial in Miami, a city dominated by anti-Castro Cuban exiles.
In addition to spying on military bases and exile groups, the men were charged with having helped the Cuban military shoot down and kill Cuban-American pilots flying two unarmed planes over the Florida Straits in 1996.
The shootdown sent waves of outrage through south Florida. In addition, the men were put on trial five months after 6-year-old Elian Gonzalez was sent back to Cuba, an episode that sparked large protests in Miami.
Lawyers for the Cuban agents had asked the Supreme Court to use the case to establish broader circumstances justifying a change-of-venue order by a trial judge. "It is hard to imagine a stronger case for a change of venue than this case," wrote Washington lawyer Thomas Goldstein in his brief to the court.
He noted that the trial had been criticized by Nobel laureates, national parliaments, and human rights experts. "No criminal trial in modern American history has been condemned in such a fashion," Mr. Goldstein wrote.
---